Whaler's Village is more than a place to shop. Originally built in 1970, it is a unique open-air experience offering over 90 stores where walking around in your bathing suit is fun and acceptable. Whaler's Village is located on the beautiful white sand beach of Ka'anapali, known as one of the world's top beaches; "Dig Me Beach." Nestled between The Whaler and the Westin Resort Hotel, you'll be buying among swaying palms, al fresco dining with gentle blowing tradewinds and even get a history lesson.
From beachwear and casual island clothing to up-scale fashions, you'll find something to fit your style. Dirt shirts, made popular by Mike Rowe and his television show, are a great buy for that special person you left at home. Traditional native crafts hand-made from island woods or gourds fit nicely in your carry-on. Peruse the venues for shoes, toys, luggage, jewelry, scrimshaw, island prints and more.
Whaler's Village has a Center Stage which provides many opportunities for patrons to be entertained. Take in a Lei Making Class, watch a Polynesian Show, try your hand at, or rather, your hips at learning the hula, or see live coconut husking demonstrations. Besides offering an eclectic Art & Crafts show every week, you may sit back to listen to Sunset Jazz or be amazed by an International Dance Troupe. The best part? It is all free.
At Whaler's Village, the family can spend the entire day. A Food Court on the lower level has something for everyone's fast food appetitte. Sandwiches, salads, Chinese cuisine, pizza and Subway fits all budgets and tummys. Later in the day, you can watch your favorite team play at the sports bar inside Maui Fish & Pasta. In Leilani's On The Beach, located downstairs from the up-scale dining room, you can induldge on Happy Hour sliders while enjoying one of the most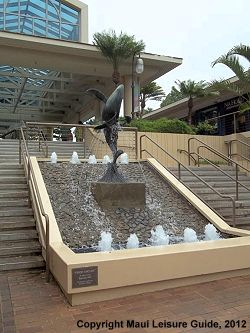 spectacular sunsets you've ever seen. Dig your toes into the sand floor of Hula Grill's Barefoot Bar as local musicians entertain. Or if you are looking for a special or romantic place for dinner? Try Leilani's upstairs or Hula Grill Restaurant.
Tucked up on the top floor of this understated mall is The Whaler's Village Museum. This is a "must see" stop. Depicting the "Golden Era of Whaling" this museum will guide you through a typical whaler's life at sea. Video presentation, interpretive displays, photo murals and extensive artifacts lend credence to the hard life these men led. Displays of fine examples of 19th century scrimshaw are worth the visit alone. There is a nominal admission fee of $3 for adults, $2 for seniors and $1 for children under 18. The museum is open from 10am-6pm daily. A small gift shop has a multitude of whaling related items for purchase. For more information on the museum you can call: 808-661-5992.
Be sure to stroll the entire mall to take in the various works of arts (mostly whales of course), the dolphin fountain, the koi fish and hidden treasures in the sidewalk kiosks. At the time of this writing in late 2012, the mall management is planning a major revitalization and expansion project to add yet another 15,400 square feet of dining and retail space. Whether you decide to get a henna tattoo, bread-wrap your hair or just take in the incredible ocean view, Whaler's Village is a memorable vacation delight.